Dennis Powers has been interested in the sea going back to his youth when he water skied off the New Jersey coast and sailed in regattas. Body surfing from the California coast to Hawaii, he has been thrilled while also awed by the ocean's power. Whether fishing for salmon, white-water kayaking, or wilderness hiking, his interests are with the outdoors.
Dennis enjoyed a liberal arts education with honor courses at the University of Colorado in Boulder (B.A.), a law degree from the University of Denver Law School (J.D.), and then graduated from the Harvard Business School (M.B.A.). He first worked for large corporations in investment and financial fields, while he dreamed about adventure and writing books. He moved to Santa Barbara where he later established a law practice, was a single dad, and began writing poetry, newspaper and magazine articles, fiction, and nonfiction books, earning his keep during the day while writing at night.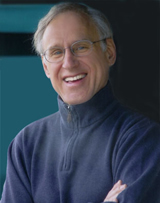 Deciding that teaching would give him more time to write, he joined the faculty in 1995 at Southern Oregon University in Ashland, Oregon, to teach business law. His first books were the critically acclaimed Legal Street Smarts (1994), Beating the Tough Times (1995), Legal Expense Defense (1995), The Office Romance (1998), and The Internet Legal Guide (2001). His non-fiction book, The Office Romance, was his publisher's lead book for the year, and he was on a national book tour.
While writing other books, he continued researching and writing about the sea, which is his first love. In 2005, his book The Raging Sea, about the 1964 devastating tsunami that crashed down the U.S. West Coast, was a commercial and critical success. His book Treasure Ship, about the loss and final discovery of a gold-laden ship, was published one year later. Sentinel of the Seas (2007) was about the building of the most dangerous, remote and lighthouse in this country's history. Taking the Sea was brought out one year later and tells the tales of the wreckers, or salvagers, of ships and their passengers from the days of the fleet clipper ships to today's huge liners. The fifth book in his maritime series, Tales of the Seven Seas, was published in 2010 and is about the adventurous exploits of Captain Dynamite Johnny O'Brien. Dennis is currently working on a new book.
Dennis resides in Ashland, Oregon, with his wife Judy, libraries of books, and the ocean and wilderness close by.